Reading Time:
3
minutes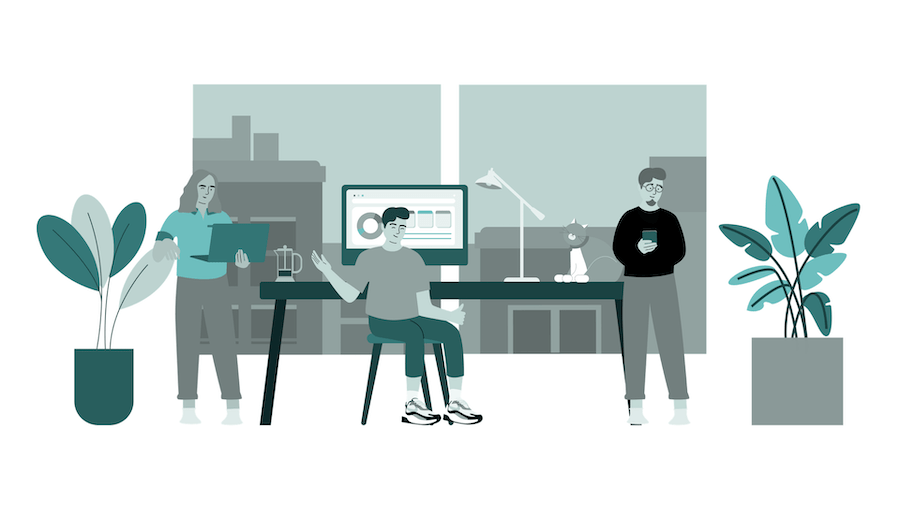 While more and more people have become familiar with remote work, there may be some of you who need more information on this. This is why we thought it would be useful to put together a brief article that will help you better understand what remote work entails. Let's have a look at the best benefits of remote work and what you can expect if you choose to work with a fully remote team like Fleksy.
Autonomy
Autonomy is manifested when employees are empowered to work together to solve problems and create what clients need. Our teams know the most about our clients and users, so they decide what issues to solve and how to solve them. They do so by listening to our clients, studying the data across multiple departments and exploring different solutions. Together, a team of employees makes up a "focus cluster". Each cluster runs multiple projects. Our clusters are closest to our clients, so they decide what they need to deliver and how they'll deliver it. This means that they can move fast without being told what to do by top management.
Independence
Another benefit of telecommuting is the increase in your job opportunities. This can be especially helpful to job seekers living in rural areas or small towns, where there may not be many available local positions. It may also be helpful for workers who plan to travel and live as digital nomads to have a flexible career. 
At Fleksy, we embrace autonomy at work by nurturing a culture based on these 4 pillars: transparency, reliability, authenticity and fairness.
Flexible Working Hours
Remote jobs can let people with disabilities or caregivers who need a flexible schedule, such as those with children, pursue their career goals without having to worry about commuting to an office every day. It also gives workers the flexibility to get healthcare appointments when needed. Remote and flexible employees tend to have lower stress levels and improved personal relationships, in addition to having more time for hobbies and interests.
OKR Focused
While traditional businesses may measure results by looking at Key Performance Indicators, remote teams utilize Objectives and Key Results (OKRs). OKRs are a way to set priorities and ensure everyone's efforts are directed towards meaningful goals. An objective is a goal, outcome, or some type of measurable improvement you aim to achieve. A key result is a specific, measurable, assigned outcome that contributes to an objective. Together, these pieces help to define your organization's vision and mission. For example, if you are a software development company with the objective of improving code efficiency by 50%. A key result might be the number of users able to complete a transaction in less than 3 seconds after your software update. It follows that this would be one of your key results for a quarter or year based on that objective.
Conclusion
We hope this article proves to be useful when it comes to helping you gain a better understanding of what it's like working in a fully remote team. While this all may seem new to you, there are a slew of different benefits attached to remote work. Be sure to keep everything that we've discussed here in mind so that you can navigate the modern work landscape effectively.
Fleksy is always looking for outstanding individuals wanting to change the future of how we type across all screens. Learn more about our opened positions and join our fully remote-happy team!