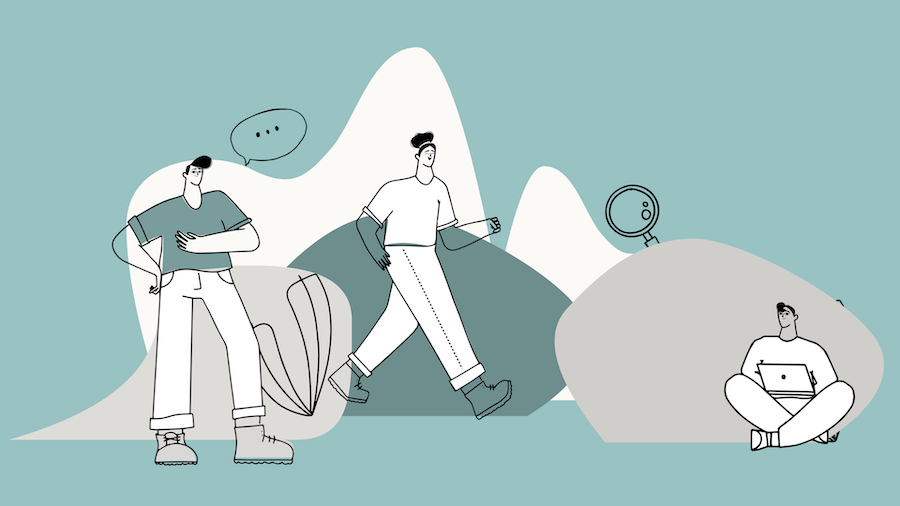 Before working anywhere, it's essential to know what you can expect. What are the people like, how do they feel, so on and so forth. Today, we're going to explore what life is like working at Fleksy and how people feel about their work, the company, the family culture and more.
Fleksy Company Overview
Fleksy (Thingthing Ltd.) is a dynamic software company specialized in developing software typing technologies.
For Consumers (B2C), we help millions of smartphone users elevate their typing experience thanks to the Fleksy keyboard, one of the world's most popular virtual keyboards in the world.
On the B2B side, we serve dozens of small, medium, and large companies that leverage our powerful Fleksy SDK, which has grown significantly in the past couple of months.
The First Few Days at Fleksy
For most people, it's incredible. They describe a seamless onboarding experience. Many new hires have opportunities to talk to various team members and get to know them. One of the best parts is settling into their respective roles before getting any challenging work.
The Team
The people are a big part of what makes working at Fleksy so pleasant. They're always excited to meet recruits! Although newbies might be nervous about starting at a new company—especially one that creates mobile keyboards, there's genuinely nothing to worry about. Everyone will be welcoming and happy to have you on board.
At first, it might take some getting used to. You have to get to know the area, the people, and more. But within a few weeks or even days of being there. Some people even took to using post-its to learn the layout and the people faster. 
Here at Fleksy, get used to getting lunch and dinner together and drinks whenever the weekend. As mentioned, the people and the culture make the magic work. People genuinely like each other.
Overall, it might be overwhelming at first, but it's nothing you can't overcome. Everyone will be willing to offer one thing to look forward to with a helping hand. The company prides itself on its team and how well they work together.
What New Recruits Can Expect
Well, for starters, there's an incredible and talented team of individuals to greet you once you've joined the company. Within the first few days, you'll meet with your teammates and get to know them.
One great part about the team is there's usually a fantastic team meeting that the people of Fleksy take part in. You'll get to know everyone, and they'll get to know you. This is one of the biggest factors of why people love working here—they feel at home.
You'll learn quickly that the people are what makes working at Fleksy so great, and it's true. They're friendly and focused, and they want to help you. Compared to other places, they're a lot more friendly and inviting.
The Best Part About Working at Fleksy
Some people say that the work is challenging—sometimes it is, sometimes it's not. It's all about how hard you're willing to work. That said, there will be some cool projects you get to do. You'll learn new things and meet some great people.
It's a team effort—they all contribute to making the company as great as it is. Everyone's always willing to lend a hand and lend an ear.
Antonio Pallares, iOS Lead
"It's great. You know the company direction and what you need to do. But, what's much more important, every single one of us is heard. If there's something we believe can change, we can bring it up and discuss it with the rest of the team. Everyone is accommodating and takes into consideration all of our opinions and ideas."
David Calvo, QA Lead
"Work is usually quiet. I have space to learn, research, organize, etc. We work quite independently for a common goal, and I like that."
John Griffin, Business Development and Marketing Manager
"I enjoy the fast-paced environment and freedom to try new things. I worked at a big fortune 500 corporation before Fleksy, and it was impossible to get anything done because of all the bureaucracy. Fleksy is the opposite. If you want to try something, you can. The flexibility of working fully remote is super nice too."
The Bottom Line
Hey, thank you! If you made it this far, thanks for reading all of this. In a nutshell, this article is about what it's like working at Fleksy. We've talked about the company, the team, and more. If you're looking for a company that has a great, friendly environment—look no further. This is the company for you.
Fleksy for business is a private white-label keyboard SDK enabling companies to create unimaginable products for business. Our goal is to help other enterprises to build their value on top of a robust and proven deep tech. If you want to be part of our team, visit our careers page.