Reading Time:
2
minutes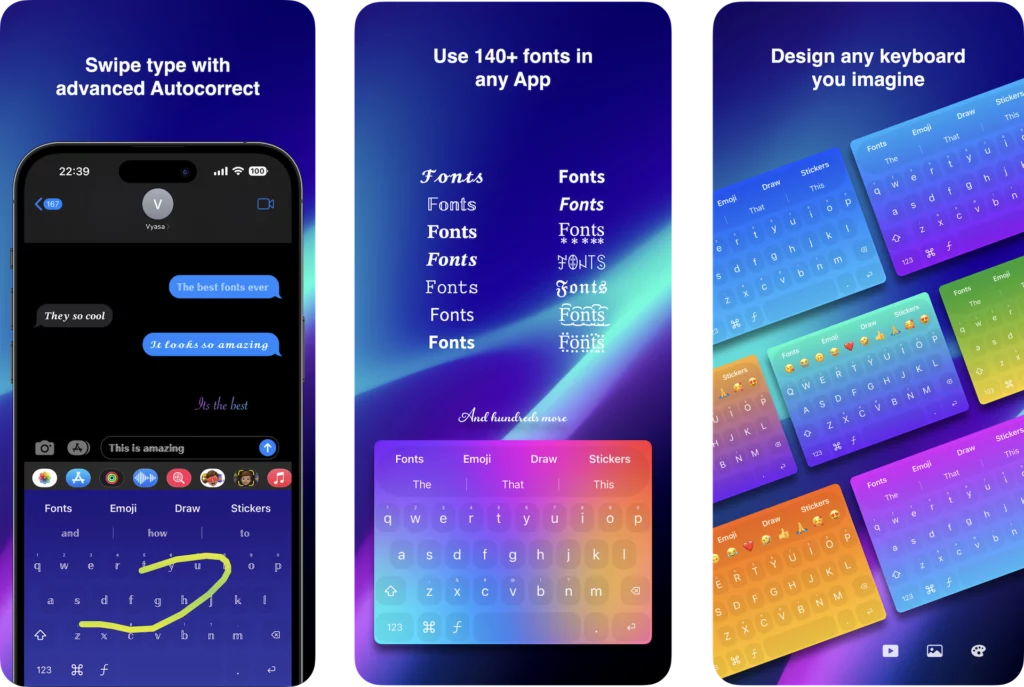 Fleksy has been powering several typing experiences worldwide with its virtual keyboard development kits. Today, we're announcing that Vyasa, one of our Predictive Keyboard SDK customers, has published an important upgrade to its iOS keyboard app called New Cool Fonts Keyboard which includes Fleksy's legendary autocorrect, word prediction and swipe input technology.
This announcement arrives just a couple of weeks after the recent removal of Swiftkey on iOS by Microsoft, leaving an important momentum for keyboard alternatives with swipe input on iOS.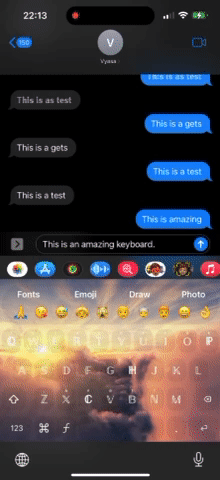 Where many hardcore Swiftkey fans have expressed their anger and disappointment, the New Cool Fonts keyboard now provides a strong alternative to the swipe input lovers using an iPhone. Even though Swiftkey is back on iOS, alternative keyboards are a good way to try something new. And Vyasa's keyboard sure is something fresh and novel with its animated backgrounds and 140+ fonts.
"The most important part of a keyboard is the auto-correct engine. Building a good auto-correct engine happens to be one of the most challenging tasks when creating a custom keyboard for any developer", says the indie developer behind New Cool Fonts, Vyasa Rambarran.
Vyasa then adds: "With the Fleksy Predictive Keyboard SDK, I was able to set up one of the best autocorrect engines in the world in under one hour."
Olivier, CEO of Fleksy, takes pride in helping others thrive "At Fleksy, we exist to democratise access to language input technologies. We're proud to bring our technology to software developers out there like Vyasa."
For Vyasa Rambarran, his upgraded virtual keyboard has completely transformed his keyboard app. He claims a 3x increase in overall keyboard performance and the difference in typing accuracy is night and day.
"Thanks to Fleksy's Predictive Keyboard SDK, my iOS keyboard is the only text input in the world that supports swipe typing with an amazing selection of fonts!"
Vyasa is now actively working on bringing even more functionalities from the Predictive Keyboard SDK to his keyboard app. He confirms that he'll be adding the ability for Swiftkey users to import their dictionary as well as adding more languages soon such as Spanish, German, Italian, and Dutch alongside the whole list of 82 languages Fleksy supports soon after. 
About Vyasa
Vyasa is an award winning iOS developer aiming to provide the best user experience. He creates utility Apps for the iPhone and iPad. He is behind one of the most feature packed keyboards in the world, helping users to save time and making their typing experience more enjoyable. For more information visit www.tripoint.digital
About Fleksy
Fleksy is an award-winning virtual keyboard technology provider. The Fleksy Software Development Kits (SDKs) enable developers and companies to overcome the challenge of building a top-notch typing experience across various platforms. Its clientele can then focus on their area of expertise & value-add for a simple monthly subscription. For more information, visit www.fleksy.com
For media inquiries, please get in touch with us