Reading Time:
2
minutes
Text input autocorrection, prediction & swipe – all integrated in a day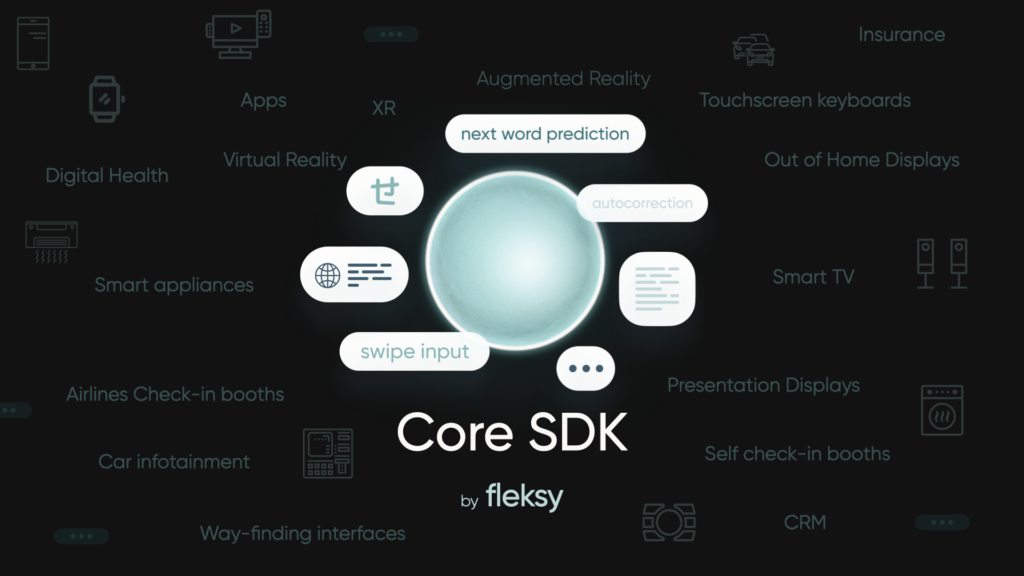 Fleksy is proud to announce the launch of the Fleksy Core SDK.
With the Core SDK, all existing software applications requiring text input can be improved by Fleksy's technologies. From Android and iOS, all the way to AR, VR, and MR, software engineers of all backgrounds can integrate the Fleksy Core SDK in a vast array of applications.
The need for a powerful and market-proven typing experience, which has been lacking in many UI-driven keyboards, is one of the key factors that led to the development of the Fleksy Core SDK.
Our team saw that though many keyboard applications have had some early adopters, they eventually failed at retention due to a lack of market-proven autocorrection, word prediction and swipe input. At the same time, several digital applications that require text entry across various mediums outside of smartphones (take for example VR, AR, Automotive, Out of Home displays, etc.) are still lagging behind the quality levels of typing on smartphones.
The goal with our Core SDK is to address these pain points and bridge the gap in the market for suitable technologies, by cutting integration times 10-fold and helping even more developers across different industries.
The Fleksy Core SDK is designed to instantly improve the text input experience of any existing typing application. Apart from adding 82 languages to any text input application, it also adds Fleksy's Guinness World Record autocorrect, next word prediction, and patent-pending swipe input across all languages. A speedy half day integration is one of the many features of this developer-friendly toolkit.
Today, any third-party developer who has built a mobile typing app, and very soon any digital text product outside of the smartphone, will benefit from Fleksy's new toolkit. This is a stride in industry innovation, as it has so far not been possible to secure a powerful AC, NWP, and Swipe for an existing product – Francisco Garcia, CTO of Fleksy
With the Fleksy Core SDK, developers will be able to use Fleksy's technology and adapt it to several different applications. The Core SDK can provide a significant improvement in typing experience, especially in cases where developers have many components already built and only need to improve on what they have, without considerably modifying their app.
The Core SDK is also compatible with out-of-home displays, designed to run on a variation of Android open source but with a different capability, capacity, size and layout. With an efficient public keyboard SDK that is capable of facilitating any hardware-enabled gesture control system, it would be possible to type without physically touching the surface of a display.
Our Core SDK is capable of being used without the layout being traditional because of how we engineered our swipe input method. This is revolutionary as the typing surface can have any layout, or letters in a different sequence, and it won't limit the possibilities.
Currently, we're focused on adapting the Core SDK to mobile phones for both iOS and Android but, in the future, we'll power any digital text product. They'll all benefit from Fleksy's new toolkit, meaning the adaptability of all possible layouts.
This materialises a unique way of interacting with digital keyboards, where users can rely on proven autocorrect, next-word predictions and swipe input – even while on the go.
We'd love to talk. Get in touch today and let's build a better future together.