Reading Time:
3
minutes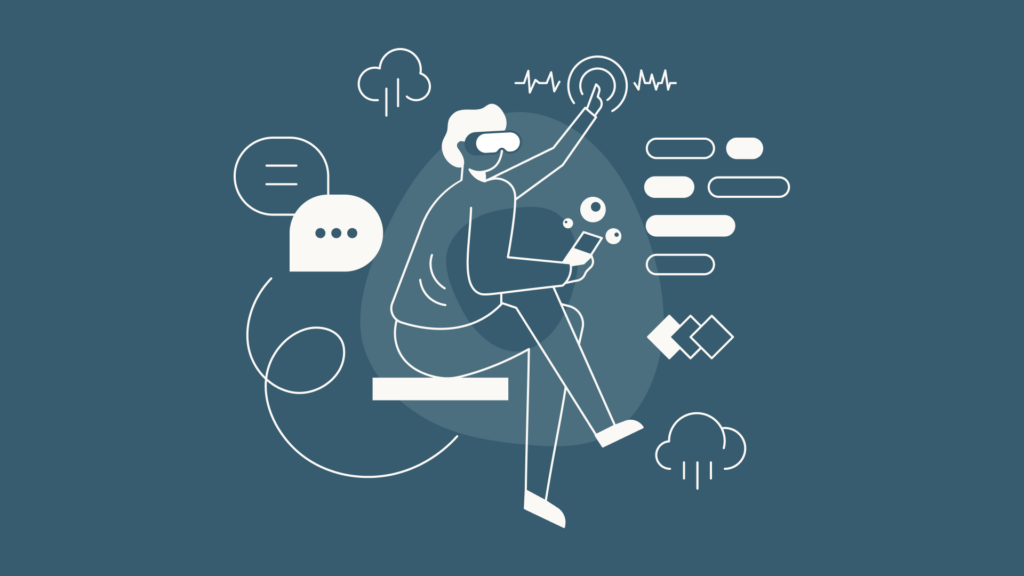 At this point, many of us are already familiar with the metaverse concept, which offers a 3D virtual experience. It is composed of virtual reality (VR), augmented reality (AR), mixed reality (MR), and so much more. This makes it a vast subject that may be difficult to fully grasp in just one sitting. Fortunately, we can explore the metaverse by focusing on the one area developers are working on the most: text input in VR and AR. Read on.
Virtual Reality
Technology has improved in leaps and bounds over time. A prime example of this is virtual reality, which has found its way into our daily lives. We can use it for a variety of purposes, such as entertainment, communication, education, and more. One of the most common uses for VR is gaming, which is why gaming is one of the most popular VR applications.
There are many ways for us to input text in virtual reality, but one of the most interesting ways is to use a keyboard. This is a common input method for PC and mobile users, but having a keyboard in VR offers a unique typing experience.
Specifically, we can use a keyboard in virtual reality by allowing the player to view their keyboard on the virtual screen. However, this is not as simple as it sounds. To make it feel more natural, the developer needs to make the keyboard appear as if it is actually there. That way, we are not just looking at a virtual keyboard but also interacting with it, which is a lot more fun.
Augmented Reality
Even though augmented reality (AR) is similar to virtual reality, the two are not exactly the same. Rather, they are closely related. The main difference between them is that AR uses the real world as the background while VR uses a 3D environment.
One of the most common ways to input text in AR is via a virtual keyboard. However, this is not the only way; another method is to use hand gestures. This allows the user to input text without the need for a physical keyboard or phone. While it may not be as easy as using actual keystrokes, it is still a viable option for those who want to keep everything as natural as possible.

Text Input in VR and AR
Whether you are in VR or AR, text input is an integral part of the user experience. If a virtual world is to be successful, it is important that it can be used in multiple ways. This is not just by offering various entertainment and educational options but also by providing a way to use it like we normally would.
Even though the two technologies are similar, they also have their own unique features. Thus, the input methods for each should be different. One of the main differences is that VR is more immersive than AR. Sadly, this also means that using a virtual keyboard is more difficult because there is no way to see the keyboard without taking the VR headset off.
Conclusion
The future of the metaverse is exciting. No longer are we only concerned with playing games and communicating with other people. Instead, we are focused more on making the metaverse a useful resource that we can use for a variety of purposes. One of these is text input.
When inputting text, developers want to make it as smooth as possible. This is a challenge, given that VR and AR are new technologies. While some of us are familiar with typing on our phones, it is a different experience on the virtual screen.
If you are looking for the best keyboard technology in VR or AR, check out Fleksy. We are a private white-label keyboard SDK enabling companies to create unimaginable products. Get in touch now.