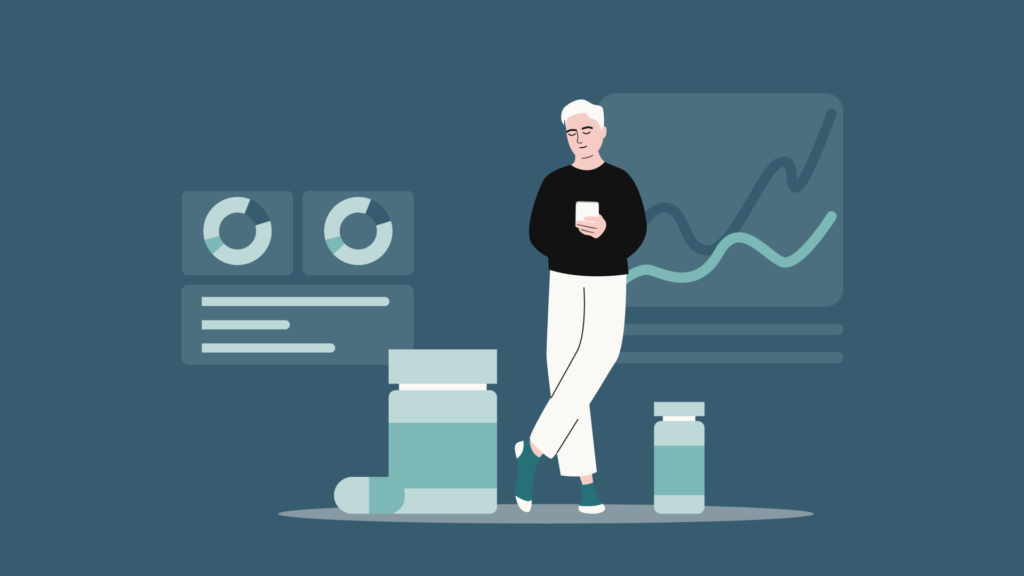 The healthcare sector has intensified its digital efforts. It is embedding mechanisms into the overall plan to generate a new degree of interaction between treatments and patients. A prime example of this is the use of wearable technologies. 
Wearable Technologies in Healthcare 
Wearable technologies make it possible to track human physical activities and behaviors and physiological and biochemical markers.
According to GlobalData, the seamless integration of wearable gadgets and healthcare apps is enabling a world where people may monitor their health using their smartphones. The market for wearable items such as smartwatches, smart glasses, and fitness trackers increases quickly.
Wearable tech is predicted to develop at a 19% compound annual growth rate to $64 billion by 2024. This represents a 237% increase since 2019. Mobile health is predicted to grow as these technologies evolve and become more accessible to consumers.
Wearable technology with the best keyboard technology for apps has the potential to provide novel solutions to healthcare issues.
Android SDK Keyboard 
The smartphone software keyboard is one of the digital health applications that have the potential to propel the sector ahead. While keyboard software may not appear to be a critical function in a medical setting, it can aid in the detection of severe disorders such as neurodegenerative diseases.
Wearable technologies are on the cusp of allowing remote monitoring of certain mental diseases. Still, the keyboard is already in place, and it's better for everyone because the technology runs on existing gear that the patient already owns. Nowadays, the smartphone requires no new gadgets. 
Until smartwatches and wearable technologies included inbuilt keyboards, these gadgets were best defined as accessories rather than replacements for smartphones.
Mobile Health 
All devices utilized in healthcare applications, including wearables and apps, are classified as mHealth devices. This technology-driven strategy revolutionizes healthcare and how care is delivered by engaging patients, their families, and communities.
Furthermore, artificial intelligence (AI) and machine learning (ML) are being employed in the healthcare sector. Both speed up data processing and decision-making. They are used for the following:
diagnostic purposes
assisting in the earlier detection of diseases
better management
better treatment of patients and
assisting patients in living healthier lives.
Convenience and Efficiency 
The Fleksy virtual keyboard SDK also includes a Guinness World Record Winning Autocorrection software. It allows users to type effectively on their little devices without checking, re-edit, and re-do continually. 
This is a noteworthy step forward in the mission to make touchscreen typing on wearable devices easier. A software keyboard SDK can also make it easier to communicate directly from your consumer's wrist by bridging the gap between their smartwatch and smartphone.
Real-time Alerts 
The ability to notify several departments within a healthcare institution is known as the alerting process. These notifications may be triggered after patient data is input, laboratory results are accessible, or an expert decides. This procedure allows medical personnel to maintain track of the patient's progress and take corrective action.
Remote Patient Monitoring 
The field of remote patient monitoring is rapidly expanding. The fundamental goal of this approach is to get patients to stay in their therapy, check their health, and keep their doctors informed about their status.
With wearable technologies, patients can communicate with their doctors even after leaving the hospital through remote patient monitoring. It also assists medical personnel in looking for probable pharmaceutical side effects and other health issues such as blood pressure or sugar levels.
Healthcare staff can use remote patient monitoring software to analyze data collected by remote devices. Once data from the patient is transmitted to a healthcare expert for diagnosis, a report is generated to track progress.
Healthcare corporations can use a keyboard SDK technology for healthcare to collect data that they can feed into AI algorithms to monitor and detect neurodegenerative disorders. While wearables are one of many source of health data, the smartphone keyboard is a door wide open into mental health and the Fleksy Keyboard SDK powers this next healthcare frontier.
Downloading an alternate keyboard
Leveraging the Data Layer of the Fleksy third-party keyboard SDK gives app developers more customization options for their mHealth apps, improving in-app functioning for particular typing experience features and the end-user's behavioural datapoints, also called digital phenotyping. 
With dedicated keyboard software, the wearable technologies of a healthcare firm can use algorithmic prediction to eliminate the need for a user to look at their wrist. The app can go even further, allowing it to use the technology to do real work and write text. 
Integrating keyboard technology to Wearable technologies 
In the hands of healthcare professionals, technology is a powerful instrument. Today's gadgets, such as smartphones and tablets, allow your consumers to track and monitor their health while on the road. With an integrated Android Keyboard SDK or iOS Keyboard SDK, wearable technologies such as mHealth devices can help improve data records and expand the digitalization trend, which is great for hospitals and care practitioners.
Fleksy's white-label SDK keyboard is here to let businesses create their digital health apps, services and products. The virtual keyboard solution we provide is simple to integrate and is the best keyboard technology for apps in healthcare.