Reading Time:
3
minutes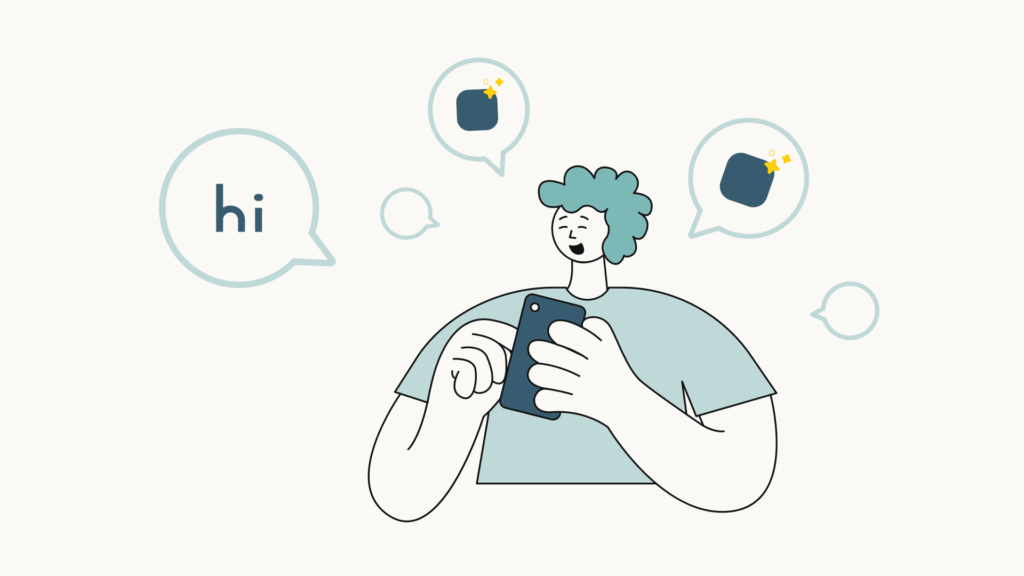 How many times have we had to switch between a messaging app and a browser while planning a trip with friends over text, a tab open for looking at flights, another for hotel bookings, another for city hotspots? An endless back and forth between countless tabs on a browser and the messaging app makes things as tiresome as it sounds! Not only does it break the flow of conversations but also creates confusion. In short, what you're left with is a big mess.
But what if we could avoid this mishmash by being able to find all this information without even leaving the messaging app? This idea of convenience is at the heart of the "Keypress template".
Providing a dedicated button for specific actions can remarkably improve the way users interact with a keyboard. Imagine accessing vital information about events, concerts, gatherings, itinerary and more with just the click of a button that can open up an app or a website within the keyboard interface! This way, you can access information while conversing with your contact on a messaging app with no interruptions or inconveniences. In short, this seemingly simple addition can take the user experience to a whole new level.
As an intuitive solution with applications across use cases in everyday life and business operations, the Keypress template is as versatile as it can get. Here are a few ways in which we can reimagine keyboard interactions with this insightful template.
Getting more out of the keyboard, everyday
Let's start with grocery shopping. Coordinating between members of a household on the things to buy is a task in itself. Switching between the grocery shopping app and the messaging app is another. It would be a lot less messier if there is an option to simply access the grocery app from within the keyboard interface while still staying on the messaging app. Thanks to the Keypress template, this idea can indeed be executed.
Event information while texting is another interesting application of the Keypress template. Whether you've got a movie date to plan or a concert you wish to attend, it is possible to view all relevant information about an event without leaving the messaging application. You can access the latest news on your idols, favorite bands or sports teams, upcoming games, events or concerts and much more- all within the keyboard interface. This can be extended to flight itineraries, prices and general information. Through a keyboard shortcut key, companies can become enablers of a better asynchronous decision making process.
A true value addition for businesses 
Interactions between members of a salesforce team and the client could oftentimes involve hassles in communication. A good part of this can be attributed to the trouble that goes into retrieving information from the source and then relaying it across to the person on the other end- the same process repeated every time. While a robust CRM keeps track of information on the salesforce's end, regular conversations between executives and their clients might take place elsewhere, usually on conversational channels like Slack or WhatsApp. This means that a lot of important information could go unorganized, making it difficult to have everything in one place. Ultimately, it makes switching between apps an inevitable part of the routine- opening the CRM app, finding information, switching to WhatsApp to share it, and repeat.
With a keyboard extension of the CRM app, sales teams can access all necessary information right from the keyboard interface, while simultaneously communicating with clients on messaging applications. It doesn't matter that the information is stored on another application, your keyboard connects with the same and gives you the right information- including documents, contracts, contact information of clients or colleagues and so on. A merchant could be chatting with a customer over a messaging app and quickly update the CRM database in real time, as the keyboard is also equipped to host the CRM. All previous interactions from inside the messaging platform will be available for your benefit too. It is not a Whatsapp plugin, nor does it require the tiresome switching between apps. That's the beauty of it.
Imagine the same for effortlessly connecting information saved on the cloud (Google Workspace for example) and conversational channels used regularly at work (Slack). These integrations have the potential to conclusively transform the way we communicate and coordinate in our work lives.
The keyboard as the companion of an app 
The mobile phone has unarguably made our lives easier, but at the same time, it comes with its own set of limitations. The size of the mobile screen, making it inadequate to accommodate multiple windows, certainly limits our ability to multitask without friction. Despite this, mobile phones are what we use for almost everything. The best way to make mobile experiences as frictionless as possible is to be imaginative about solutions that can make routine tasks less complicated. The potential of the Keypress template can empower keyboards to do more and be more- an aggregator of search terms, an in-keyboard browser, you name it.
At Fleksy, we are on a mission to democratize access to language input technologies worldwide. We'd love to hear your ideas and innovations, and help you realize them. Subscribe to our Developer Platform if you're a software developer or contact us to learn more about how the Fleksy SDKs can help your product thrive.